Catching you up on overnight happenings, and what you need to know today.
• The worst is behind us, but we're not quite yet finished with the chilly weather. Last night was one of the coldest nights in years, prompting shelters to open across Tampa Bay, and tonight will only be several degrees warmer, according to 10Weather WTSP. Consider it a sacrifice for beautiful weather ahead. Friday will warm up to the mid 60s, and Saturday and Sunday will see temperatures in the mid 70s.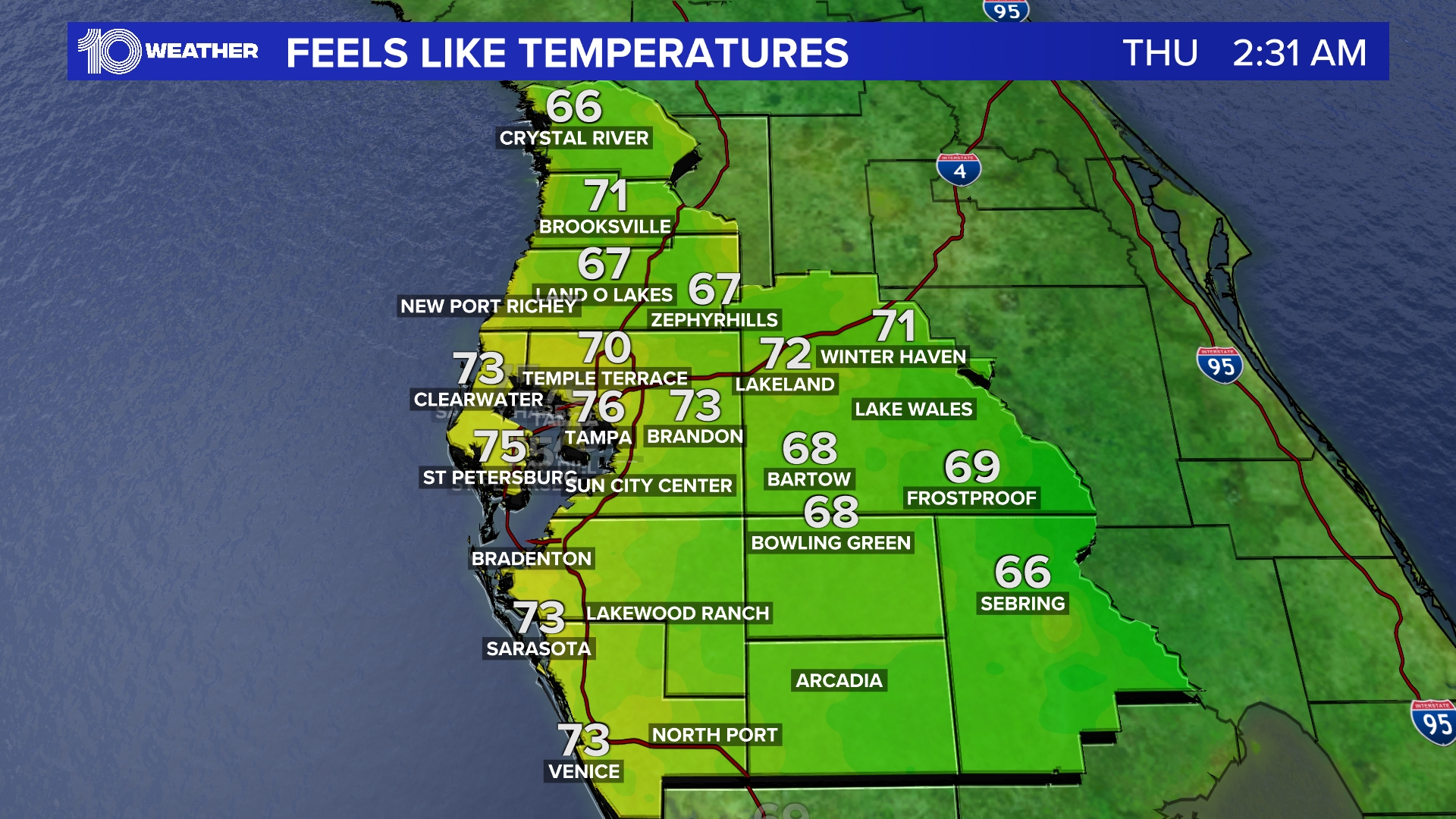 10News WTSP
• As you head out for your morning commute, check out our live blog for the latest traffic updates and road conditions across Tampa Bay.
• Nine Florida State University students have been charged in connection with the November death of a 20-year-old fraternity pledge, including two from the Tampa Bay area. An investigative report reveals the chaotic scene and binge drinking at the Pi Kappa Phi party that police said took place before Andrew Coffey died from alcohol poisoning. Colleen Wright reports on what police discovered.
• The developers of the country's first Crystal Lagoon in Wesley Chapel are eager to celebrate their 7.5-acre artificial lake, if only it would warm up some. A ceremonial ribbon cutting was postponed earlier because of inclement weather. Officials with Metro Development Group and Crystal Lagoon will try again at 10 a.m. today for a ceremonial ribbon cutting.
• Jose Gaspar, mythical pirate, meet Lord Stanley of Preston. Next weekend, the Gasparilla Parade of Pirates and the National Hockey League All-Star Game share the spotlight in downtown Tampa — the first time the game with its Friday through Sunday activities has overlapped with an event as big as Gasparilla. Paul Guzzo reports on how the NHL will be thrilled to don Gasparilla garb.
• Need a ball pit? Almost two years after The Beach was packed up and sent on to its next exhibit, some 15,000 leftover white balls from Amalie Arena''s massive ball pit are going up for sale at an auction this weekend.
•If the Tampa Bay area decides to build a rapid bus transit system, then it should build the best transit system it can, John Romano writes. Spending millions on fast buses instead of billions on light rail, he says, will still be a waste of money if it isn't done right.
• In the state capitol on Wednesday, lawmakers breezed through the bullet points of a higher education bill. They skimmed past a hot-button proposal to consolidate the University of South Florida System into a single university without a peep of pushback. In St. Petersburg, frustration simmered. Local leaders wondered how, exactly, the city's fiercely independent university would benefit were it to be reabsorbed by USF's headquarters in Tampa. In many eyes, the small waterfront campus at USF St. Petersburg was gathering momentum. Why change course? Claire McNeill explains.
At a ribbon cutting, Mayor Rick Kriseman said he and chamber of commerce leader Chris Steinocher talked about the proposal, trading tales of bewilderment.
• St. Petersburg's new City Council gets down to business starting today, when they get their first chance to outline budget priorities in 2018. Charlie Frago explains at tampabay.com how the city has fared in recent years. And follow him for updates at @CharlieFrago.
• Film critic Steve Persall has a movie review of 12 Strong, a true war story with Chris Hemsworth.
• It's time to plan your weekend! Our critics and writers have laid out their top picks on our Weekend Planner page, including the Children's Gasparilla Parade and the 20th anniversary of Riverdance stepping lightly through Tampa this weekend.
• Here are the top things to do today in Tampa Bay, including legendary backup singer Darlene Love, the light and magic dancers of iLuminate who first came to fame on America's Got Talent and authors reading their works at the Eckerd College Reading Series.