Catching you up on overnight happenings, and what you need to know today.
• Tampa set a new record high temperature on Tuesday, hitting 86 degrees, according to 10Weather WTSP. That beat the previous high of 85 from 1959. And you can expect another warm one day, with high temperatures again in the 80s.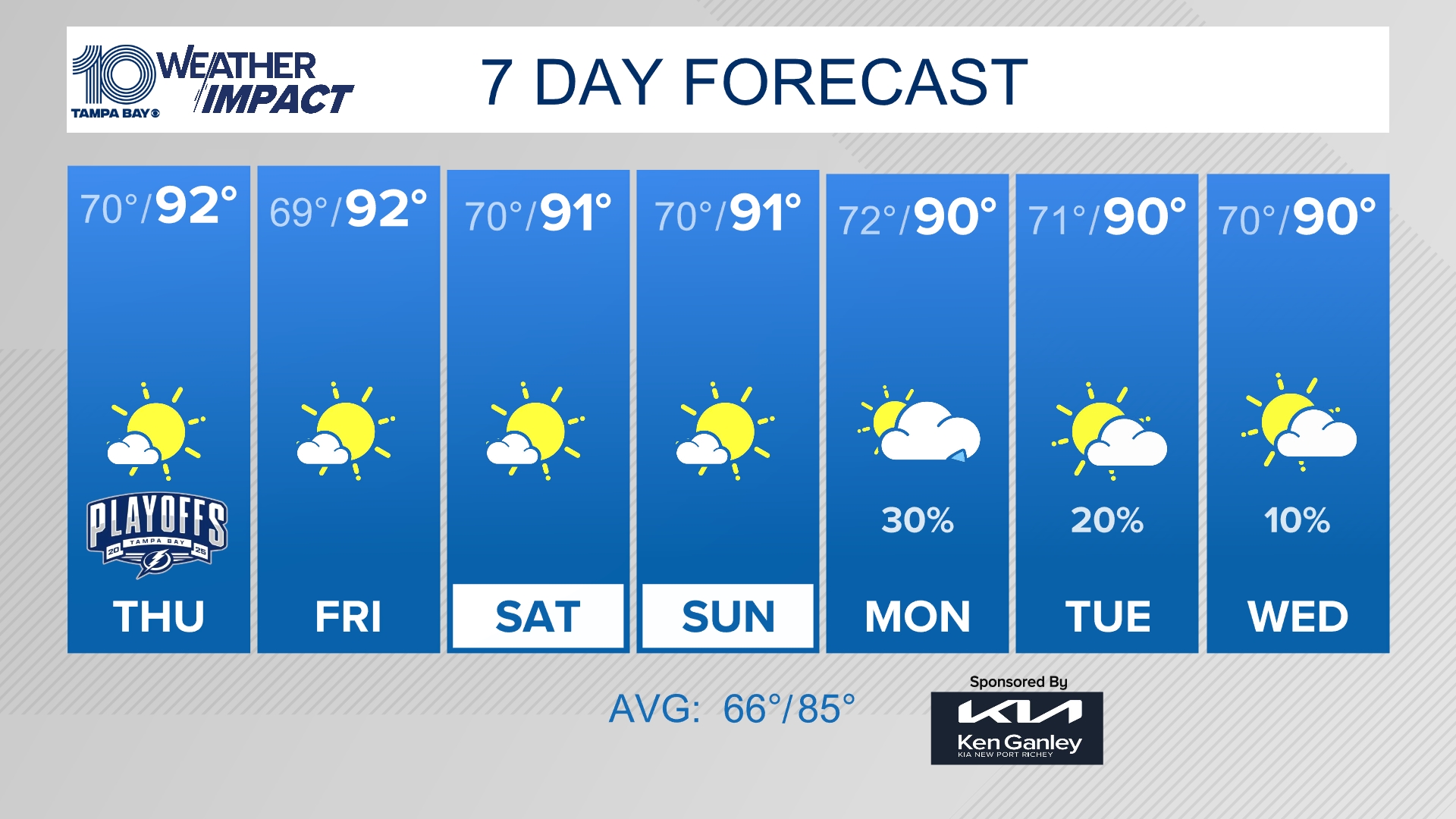 10News WTSP
• As you head out for your morning commute, check out our live blog for the latest traffic updates and road conditions across Tampa Bay.
• For years, CareerSource Tampa Bay and its sister agency, CareerSource Pinellas, have taken credit for finding thousands of jobs for people who never registered with either jobs center to seek help, the Tampa Bay Times has found. They have paid staffers bonuses for getting lists from companies of everyone they hired, not just the ones CareerSource directly assisted. They used the information to create profiles for each worker that they then sent to the state as evidence of people put to work. Read our report this morning attampabay.com.
• Florida has what's called a "citizen Legislature," where its members are part-time lawmakers. It's a system designed, at least in theory, to allow average nine-to-five workers to serve in state government. So why isn't it working out that way? Kirby Wilson and Langston Taylor explain why here.
• Tuesday was the end of an era at Tampa International Airport. It was the last day of shuttle buses running from the main terminal to the economy garages about a mile away, which have been replaced by the new SkyConnect train. Richard Danielson spent the day with the 40 or so drivers making their last runs.
• Tampa needs to replace a massive sewer pipe that was first built 67 years ago. The problem? It runs right through tony Harbour Island, and now residents want to know if the city intends to dig up their neighborhoods to replace it. Charlie Frago explains the clash between residents and the city.
• Shaun White dismissed the sexual misconduct allegations made against him in a 2016 lawsuit as "gossip" and hurried away from reporters trying to ask him more about the allegations Wednesday, just hours after winning his third gold medal in the men's halfpipe. As White was competing, many on social media resurfaced the details from the lawsuit by a former drummer in White's rock band, the Bad Things. Lena Zawaideh said White sexually harassed and refused to pay her wages after he fired her. The lawsuit was settled in May for an undisclosed amount.
• Today is Valentine's Day and also Ash Wednesday, a convergence that has posed a challenge for religious leaders as they try to stress what a special and sacred day it is.
• For the romantics, there are some shows in town today to consider and our food editor has 5 ideas for Valentine treats.
• It looked like a live TV debate. It wasn't. The debaters looked like real candidates. One wasn't. Florida House Speaker Richard Corcoran and Tallahassee Mayor Andrew Gillum staged a highly promoted debate on illegal immigration in Tallahassee Tuesday night. Slightly surreal, it was a televised debate that wasn't on live TV, featuring a debater who's not yet a candidate. Political theater, plain and simple. Just add pancake makeup.
• Did you go to the Beach Boys' sold-out show last night in Clearwater? Our pop music critic did and you can read about the highlights on our Soundcheck music blog.
• Dr. Michael Reilly grew up in St. Petersburg and returned to his hometown to become a medical leader in the community, dedicating his time and skills to charities and volunteer work. Then he was fired by the Tampa Bay Rays as team physician last month after a former employee at his private practice accused him of inappropriate behavior and sexual abuse. http://www.tampabay.com/news/Ex-Rays-doctor-has-spent-years-serving-his-hometown_165297395 Josh Solomon writes about his years of charity work.
• Does the Winter Olympics put you in the mood for some global flavors? Our food editor shows how to celebrate the Olympics with creative nacho recipes.
• Get weekly cooking tips and recipes, short how-to videos and more at Stark From Scratch, a new cooking blog from Times food editor Michelle Stark.
• For the latest legislative coverage from Tallahassee, keep checking The Buzz, which is updated throughout the day by the reporters of the Times/Herald Tallahassee Bureau.
• Here are the top things to do today in Tampa Bay, including the opening of Cirque du Solei's Volta beginning a three-week run. Also, Broadway's Phantom of the Opera and the Florida State Fair's Country Gold series.